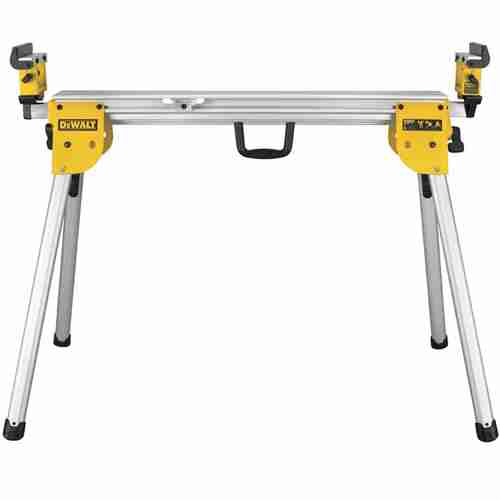 If you're someone who often works with wood, chances are you use a mitre saw from time to time. A solid miter saw stand is crucial for anyone who needs to use it regularly. But if you want to make your job even more convenient, we recommend investing in the best miter saw stand.
These stands offer unmatched support and stability, and allow you to work on your projects without technical difficulties coming in the way.
But the question still remains: what differentiates a good mitre saw stand from the best one?
In this article, we don't just tackle this age-old question but also make it a point to introduce you to the pros and cons of the top-rated saw stands in the market.
Our recommendation: DEWALT Heavy-Duty Short Beam Mitre Saw Stand.
Nevertheless, the key is in equipping yourself with adequate information so you can come to your own conclusion!
A Spotlight On Some of The Best Mitre Saw Stand 2021:
5 Best Mitre Saw Stand Reviews
Save yourself the time and effort of starting your research from scratch.
Instead, take a deep into our review section to find out everything you need to know about the best mitre saw stand!
DEWALT Heavy-Duty Short Beam Mitre Saw Stand
Dewalt is one of the best and most popular brands when it comes to power tools. It has been around for decades and is widely trusted.
This Dewalt Mitre Saw Stand is an extremely tough product that is simultaneously light enough to be carried with just one hand. It is constructed with high-quality aluminum, unlike most stands that are generally made with steel. This also prevents the body from rusting overtime, thereby adding to the overall life of the product. Contrary to popular opinion, aluminum is not considerably weak when compared to steel.
You'll be surprised to know that this aluminum mitre saw stand can stand up to 227 kilograms.
The weight of the stand itself is just 14 kilograms, and the folding legs avoid unnecessary assembly. It can easily be carried around the job site, and comes with an integrated carry handle for ease of portability.
This stand offers unmatched flexibility when cutting with a mitre saw. The work stops can be converted into end stops for repetitive cutting. It features a 1.12-metre beam that has telescopic arms to extend support to up to 2.6 meters. It is also ideal for use when it comes to large projects.
The Dewalt Mitre Saw Stand is easy to set up and is ideal for small and big projects alike. The extendable arms are also robust like the other parts of the mitre saw stand. The stand itself is durable as well as reliable. It may be argued that it is a bit pricey, but its benefits justify the high cost and offer complete value for money.
While this stand was designed to be used with Dewalt's mitre saws, it is also compatible with other brands if you invest in the Dewalt clip-on brackets. These brackets are sold independently and let you work with the mitre saw of your choice.
Pros
Lightweight
Robust
Compatible with multiple brands
Can stand massive weight
Telescopic extendable arms
Portable
Durable
Makita DEAWST06 Mitre Saw Stand
The Makita Mitre Saw Stand is a heavy-duty stand that is pretty simple to use. It is suitable for all Makita mitre saws, and is a versatile product that can be carried around easily.
This stand may also be used with other brands with the help of an adapter. It comes with castors which enables easy transportation. It can conveniently be folded down into a compact and lightweight unit, and even has rubber wheels for portability.
Setting up the Makita Mitre Saw Stand becomes a lot easier with its tool-free clamping system. The adjustable clamps allow for easy mounting and removal of the saws.
The stand also comes with adjustable rubberised feet that help ensure stability while working. They even offer stability with uneven surfaces. The arms of the saw stand extend up to 2250mm wide with a roller on one end for easy material handling.
The aluminum feed roller and adjustable material stop have been designed for enhanced speed on repetitive cuts. The stand is constructed with a tubular aluminum design that minimises its weight. It also comes with a side handle for easy carrying.
The material support extensions go as far as 100-½ inches and can stand up to 500 lbs. They also offer increased efficiency while cutting. Moreover, the sliding rail design allows easy positioning of the mitre saw.
The product also features an on-board hex wrench storage for convenient bracket adjustments. Although it is a bit costly, it is also one of the most versatile mitre saw stands out there.
Pros
Castors for hassle-free transportation
Simple tool-less installation
Lightweight
Portable
Evolution Power Tools 005-0001 Compact Folding Miter Saw Stand
This saw stand is an excellent product at an affordable price. It is not just suitable for Evolution products, but it works efficiently and effectively with other saws as well, such as Bosch and Makita. In fact, any mitre saw with bolt holes in its base can be fitted onto this incredible stand.
The quick-release locking handles on the bracket of the stand make it very easy to attach or remove the saw. All you need to do is pull the brackets down into place.
This saw stand is lightweight and can easily be carried around. It comes with folding legs and weighs just about 15.5 kilograms. However, it can handle up to 150 kilograms of load.
Despite being lightweight, it is pretty robust. The stand is highly stable and fit for heavy projects. It comes with telescopic extensions on either side that support materials of up to 3 meters in length.
If you'd like to cut multiple pieces at the same length, the stand allows you to set up the end stops, making the process even more convenient. The height-adjustable rollers are also helpful for cutting multiple pieces within a short span of time. They give better, more accurate results.
The saw stand comes with two work supports, six long locking crews, two work support brackets and an assorted fixing. It also comes with a three-year warranty. Given its price and features, the Evolution Mitre Saw Stand offers excellent value for money.
Pros
Lightweight construction
Durable
Quick and easy set up
Quick-release mounting brackets
Three years limited warranty
Bosch Professional GTA2600 Mitre Saw Leg Stand
This Bosch Mitre Saw Stand is a versatile product that can be used with all Bosch mitre saws and some other brands as well. It is a practical buy, ideal for those that often encounter uneven surfaces.
This stand has been pretty cleverly designed. There are rubber end caps on each leg, and their heights can be adjusted through a 30mm range. The spirit level makes it possible to get a flat working surface, even on bumpy lawns or floors.
The stand comes with folding legs that are controlled by a button. It can easily be carried around or stored in a garage or a van. However, it is a little bit heavier than some of its competitors.
The 19 kilograms heavy stand is a sturdy and stable product. It can handle heavy loads without any problems. The adjustable legs allow proper balancing of the stand.
There are rubber end caps at the bottom of the legs to ensure maximum grip on different surfaces. These caps prevent the stand from moving when the sawing leads to vibration.
Removing and attaching a mitre saw is pretty straightforward and quick. You simply need to secure it using the quick release clamps when the saw is fixed to the brackets. The stand comes with a universal bracket that allows fitting many different tools on it.
It also offers extended support that can easily slide out. It is strong enough to handle longer and heavier pieces. The end stops are also of high quality.
This product is ideal for trimming wall panels or cladding floors. It is also a good choice for skirting boards to desirable sizes. It comes with a two-year warranty, which can be extended to three years if you register the product.
Pros
Sturdy design
Adjustable legs
Robust side extensions
Quick assembly
Excel Mitre Saw Stand
This is a pretty modestly priced stand with great features. It comes with wheels and makes for a great portable workstation.
The stand is made with steel tubing, which also features locking steel legs. While it weighs 40 kilograms, it can handle a load of up to 150 kilograms.
The quick-dash release universal mounts allow mitre saws and other benchtop saws and planers to be easily secured and removed. Two 38cm steel rollers are also included in the universal quick-release mounting brackets.
The adjustable steel rollers support the workpiece along the length of the stand. They ensure accuracy and swiftness. The stand also offers flip-down supports for lumber or material storage that allows easy access to work materials.
The feet of the stand are adjustable and can make working on uneven surfaces quite convenient. Moreover, the stand comes with two 8-inch rubber wheels that let you transport it easily.
You can safely store the stand with or without a saw in the horizontal position. While there is no bracket for vertical storage, you could remove the saw and store the stand vertically with some support.
Pros
Portable
Easy to secure and remove saws
Locking steel legs
Buyer's Guide
With so many options flooding the markets, picking the best mitre saw stand can be confusing. Various factors need to be considered before making a decision. Here are a few critical considerations that will help you make an informed decision.
Stability
If a mitre saw stand shakes or wobbles when in use, you might have to struggle to make precise cuts. Before investing in a stand, therefore, you should look at how stable it remains even when a mitre saw starts vibrating.
This also often depends on the quality of materials that the stand is constructed with. The weight of the saw and how well the legs lock into position also influence stability.
Versatility
Purchasing a brand-specific mitre saw stand limits its usability. Nowadays, a lot of stands are cleverly designed to be more universal. They tend to be suitable for more than just saws of the same manufacturing brand.
It can be a crucial consideration if you plan on working with different saws from various brands. Some models may not be universally compatible but can be altered with the help of additional brackets.
Durability
A mitre saw stand is not a very cheap purchase; it should last you for a few years at least. For this reason, it should be well-built and strong enough to handle heavy work. It is supposed to be able to stand the weight of the saw and the material being worked on.
Storage & Portability
Portability is often an essential consideration for those that tend to hit the road with their mitre saw. Carrying around a heavy mitre saw stand can be pretty inconvenient.
Lightweight stands can make your life so much easier. Many stands also come with wheels that make it very convenient to roll them around your job site. Some stands also come with foldable legs to allow easy storage and transportation.
Final Thoughts
Picking the best mitre saw stand for your needs can be a daunting task. We hope our product reviews were helpful to you and made your task of finding one simpler.
Remember, a lot of factors should be considered before investing in a mitre saw stand. It would be best if you looked for a product that fits both your budget and your requirements.
Now that you have all the relevant information on your fingertips, go get your mitre saw stand and let us know your final pick in the comments below!