If you enjoy taking on DIY home projects, a compact circular saw is a great overall investment. In this article we will take a close look at some of the best cordless mini circular saw products available today.
Our top choice is the WORX WX527, which offers easy one-hand operation, as well as fast and easy cutting depth adjustments. You can also change out the blades without having to use any tools. The 20-volt battery it uses will provide you with extended continuous use for convenience and efficiency.
Before you decide on a certain circular saw, we encourage you to learn about each of the following tools.
How We Picked The Best Cordless Mini Circular Saw
As we looked at various products for our best cordless mini circular saw list, there were a few things we focused on. We made a point of looking at the blade that each of these tools come with. This is an important determining factor when it comes to how efficient each one really is.
We also considered the ability of each saw cut through a variety of materials with ease. You'll find that all of these tools allow for easy adjustments to the cutting depth and other settings. This makes all the difference with regards to how quickly you'll be able to get your work done.
A Spotlight On Some of The Best Cordless Mini Circular Saw 2022:
WORX WX527 Worxsaw Cordless Compact Circular Saw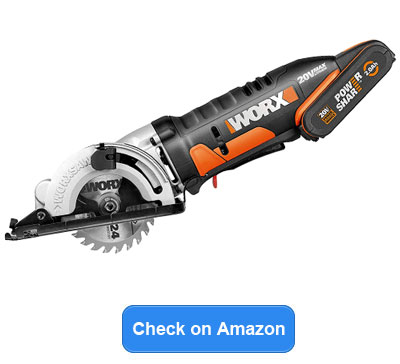 The WORX WX527 is ideal for making plunge cuts as well as rip cuts. It can be used with just one hand, which will make all of your work a lot easier. The spindle lock lets you switch out blades with the press of a button.
This 20-volt cordless circular saw also allows for on-the-fly depth adjustments up to 27 millimetres. It can be used to cut through metal, plasterboard, tiles, and a variety of tough woods. You can use the battery in this saw with other WORX tools.
We also really like the lock switch on this tool, as it significantly reduces the chances of serious accidents. You won't have to worry about getting injured due to an accidental start. This feature is definitely worth keeping in mind if you have young children in the house.
Measuring 35.5 by 17.7 by 11.2 centimetres with a weight of 2.96 kilograms, this tool is compact and very light. This will make it easy to work with for extended periods without any cramping or fatigue.
You'll find that this circular saw has a dust port that will help keep the air in your work area clear at all times. You'll never have to deal with any dust getting in your face while you are cutting.
The ergonomic grip that the WX527 offers is just one of the reasons it made our best cordless mini circular saw list. It gives you a comfortable non-slip grip for maximum stability. This design will enable you to get your work done more efficiently on a regular basis.
Pros
Allow for quick and easy blade changes
Designed for on-the-fly depth adjustments
Powerful enough to cut efficiently through a variety of materials
Lightweight design makes it easy to use for long periods
Superb ergonomic grip minimizes hand cramping and fatigue
Cons
Case that saw comes with could use a slightly better design
DEWALT DCS571N Compact Circular Saw
The DEWALT DCS571N is equipped with a 750-watts brushless motor that will give you reliable overall performance. You'll find that the 4500 RPM speed of this tool will allow you to work efficiently. It uses an 18-volt rechargeable battery that allows for extended continuous use.
One of our favourite things about this tool is its ergonomic grip, which features a rubber coating. This lets you maintain a firm hold on it for long periods. It is comfortable to hold and will provide you with complete control.
You can make adjustments to the cut depth and bevel angle without the need for a key or any other tools. You'll quickly find that this helps a lot when it comes to getting your work done quicker. You can also change the blade out very fast with no tool.
This tool's 24-tooth blade has a TCT-tipped construction for impressive durability and effective cutting performance. It measures 115 millimetres and can cut smoothly through a wide range of materials. This definitely makes it worth considering when seeking out the best cordless mini circular saw.
There is a lock off switch that effectively prevents potential injuries. It also has an electronic motor brake, which will provide you with ample control.
We also really like the sturdy overall construction of this circular saw. You can use it on a regular basis for years with little to no wear or damage. The cast gearbox helps you make accurate cuts with an impressive degree of consistency.
Pros
No tool needed to make a variety of depth cut and bevel angle adjustments
TCT-tipped blade is extremely solid and designed for efficiency
Lock off switch and motor brake help you work safely with total control
Offers a comfortable and firm grip that feels great overall
Easy to make smooth and accurate cuts on a consistent basis
Cons
Safety guard is made of somewhat flimsy plastic
Einhell 4331100 Cordless Mini Circular Saw
The Einhell 4331100 Mini Circular Saw offers a cordless design for complete freedom of movement. You won't be tethered to an electrical outlet, which can be frustrating to say the least.
You'll be able to make quick cutting depth adjustments without the use of a tool. It can cut up to 28 millimetres deep and 89 millimetres in diameter. This versatile design will almost certainly meet your needs no matter what.
You can also change out blades the same way for maximum convenience and efficiency. The spindle locking system makes doing this incredibly easy and simple.
The rechargeable 18-volt lithium-ion battery that this tool uses is very reliable and long lasting. You can use the same battery with more than 300 different tools from this manufacturer.
There are many different battery options that range from 1.5 Ah to 6.0 Ah. You will have anywhere from 26 to 120 minutes of uninterrupted use.
The compact and ergonomic design of this tool is one reason we put it on our best cordless mini circular saw list. It has a total weight of 1.7 kilograms, which is very impressive. It is designed for easy gripping, even when you are working for over an hour at a time.
Pros
Make cutting depth adjustments with no tools whatsoever
Comes with two high quality TCT blades
Works with many different size batteries
Offers precision cutting performance that you can always count on
Excellent grip design helps you work comfortably for long periods
Cons
Doesn't offer great leverage
WESCO WS2978 Cordless Mini Circular Saw
The WESCO WS2978 uses an 18-volt 2000mAh battery that can be fully charged within just an hour. It allows for extended cordless use indoors and outdoors.
You'll instantly take notice of this saw's powerful and efficient performance. It operates at a max speed of 2300 rpm, so you can complete your work with impressive speed. You can cut through a variety of materials with incredible smoothness. One of the great things about this tool is that it allows you to work quickly without having to sacrifice accuracy.
One of the reasons we chose the WS2978 for our best cordless mini circular saw list is its versatile design. It allows you to make precise adjustments to the cutting depth within a range of 0 to 27 millimetres. This makes it easy to get your exact needs met regardless of the task at hand.
We also like this tool's slim body and ergonomic design. It is very easy to hold onto and manoeuvre in tight spaces. The dust adapter lets you manage debris effectively while working. It keeps dust from becoming a problem altogether.
The double safety switch on this circular saw does a great job of preventing accidents. You can rest easy knowing that the machine won't be able to open by accident as you are cutting.
When you buy this tool you will receive a 24T TCT blade, which is very sharp and durable. You'll also get a charger, hex key, parallel guide, and vacuum adapter.
Pros
Slim and compact body makes it easy to work in tight spaces
Precision design gives you many different cutting depth settings
Ergonomic grip provides you with a stable and comfortable hold
Safety switch prevents bad accidents as you are working
Large capacity battery charges up extremely fast
Dust adapter allows you to manage debris effectively
Cons
Does not come with a dust bag
Best Cordless Mini Circular Saw Buying Guide
As you look for the best cordless mini circular saw, there are a number of things you'll need to take into consideration. The list of criteria below will allow you to narrow down your options and select the right overall tool.
Versatility
When you are trying to find the best cordless mini circular saw, you'll need to consider how versatile each one is. We recommend models that make it easy for you to adjust the cutting depth.
You should have a wide range of settings to choose from. You'll also want to look for saws that let you adjust the bevel angle to match your needs.
Battery
You will also want to pay attention to the battery that these circular saws use. You should purchase one that uses a minimum 18-volt battery.
Find out how long it takes to charge and how much continuous use you can expect to get from it. The very best cordless mini circular saw can be charged up fully in just an hour.
Size and Weight
Take a close look at the dimensions and weight of the circular saws you encounter while shopping online. It is important that you choose one that isn't too bulky or heavy. This will help you use it for long periods with little to no hand fatigue. A circular saw with a slim body will also help you navigate relatively easy in tight spaces.
Handle/Grip
You definitely need to make a point of choosing a saw that offers a comfortable grip. The very best cordless mini circular saw will have an ergonomic design. This allows you to maintain a solid and reliable grip on the tool at all times. The last thing you want is for your hand to slip while cutting.
Safety Features
There are some safety features that you should look for when trying to select the best cordless mini circular saw. This includes a double safety lock, which will prevent very serious accidents. You'll want to find a saw that won't allow for accidental startup. Make certain that you choose one that is equipped with a sturdy blade guard as well.
Motor
The motor inside of the circular saw you decide to buy is yet another crucial factor to keep in mind. We recommend buying one that has a minimum 2500 rpm motor. This will give you powerful and efficient performance on a consistent basis.
A solid, high-speed motor will go a long way towards meeting your needs in virtually any situation. You will need to know how fast each one is before landing on a certain tool. The more powerful yours is, the easier it will be to cut through a variety of materials. You should be able to cut through a variety of woods and metals with minimal effort.
Conclusion
In order to choose the best cordless mini circular saw, you will first want to look at how powerful each one is. We recommend models that offer a minimum 2500 RPM motor. The one you decide to purchase should also offer a long-lasting battery. This will allow you to work for long periods without having to recharge. Feel free to comment below so we know what you think about our list.