While a welding helmet is an essential tool for any welder, they can either end up being your best friend or your worst enemy, depending on the type and quality of helmet that you get.
Obviously, veteran welders know what to look for in a helmet, but the same isn't always true for those who are just getting into welding, especially if they are just doing some welding for a single job.
Thankfully this article is here to make your life a bit easier. As you can see for yourself, this is an article dedicated to making it easy for you to find the right welding helmet for you.
If you want us to quickly recommend you a helmet, we say to get the ESAB Sentinel A50 Welding Helmet.
A Spotlight On Some of The Best Welding Helmet 2021:
ESAB Sentinel A50 Welding Helmet
We are firm believers in not making you wait to get straight to the cream of the crop, which is why the first review that we are going to be doing on our best welding helmet list is of the ESAB Sentinel A50 Welding Helmet.
Really experienced welders may be familiar with the A50 already because, as you will see in this review, this is easily one of the absolute best and most reliable welding helmets that money can buy. We will go over all the various features of this helmet and we are confident that by the end of the review, you will see why this is such a highly rated helmet.
In just about every single category that is relevant to welding helmets, the Sentinel A50 seems to excel. In terms of protection, it offers a wide variety of different shades, ensuring that you always get exactly the right balance of visibility and light/heat protection.
In terms of comfort, it does just as well. The helmet isn't too heavy, despite its appearance suggesting otherwise (it is actually made from a very lightweight, but still durable nylon), so it sits easily on your head and neck without causing any discomfort. It even has a bunch of really unique settings, such as the ability to pre-program shade settings, so you don't have to change your settings each time.
Of course, as is always the case when dealing with high-end welding products, you have to be willing to fork over quite a bit of money to get the pleasure of using the Sentinel A50. With a price tag of $300, this is a fairly steep investment for anyone but the most dedicated welder.
Still, we feel like this is easily one of the best welding helmets around and those of you who value quality, comfort, and protection will want to give it a shot.
Pros
Can pre-program settings.
A variety of different shades.
An extremely comfortable helmet.
Easy to control.
Made from a very light, but also durable nylon material.
Cons
A fairly expensive helmet overall.
Hobart 770869 Auto-Darkening Welding Helmet
In that last review we looked at a fairly expensive, but also high-quality welding helmet. However, those of you who aren't willing to spend a lot on a welding helmet were probably a bit disappointed because of its high price.
Well, we will be rectifying that with our next review, since we will be taking a look at the Hobart 770869 Auto-Darkening Welding Helmet. This is another high-quality welder, but one that is also quite a bit more affordable.
As is the case with a lot of high-end welding helmets, the Hobart is an auto-darkening helmet. Most of you probably already know what this means, but for those of you who don't, the name is pretty self-explanatory. These helmets automatically adjust their shading to match the level of heat and light in front of your face.
Obviously, these are extremely convenient, and they are the preferred option for most welders for this reason. Since this helmet is an auto-darkening model, what we just said applies. It is also worth noting that the auto darkening on this helmet is good by almost any standard. It reacts quickly and it is very accurate in terms of what shade it uses, so you never have to worry about any issues when welding.
Next up, we really want to note how easy of a helmet this is to work with. As you can hopefully see for yourself, this helmet has a very wide POV, so you never feel constrained by wearing it. What's more, there is a "grinding" mode that you can enable.
What this does is prevent the helmet from activating when you are using a grinder. This is helpful since it enables you to use this helmet for both grinding and welding, which isn't always the case with auto-darkening options.
Pros
Has a mode for grinding.
Wide POV.
Comfortable and easy to wear for long periods of time.
Can be adjusted easily.
Good auto-darkening feature.
Cons
Fairly heavy for a welding helmet.
DEKOPRO Welding Helmet
For this next product on our best welding helmet review list, we are going to be doing a review of a welding helmet with a decidedly artistic flair to it in the form of the DEKOPRO Welding Helmet. This is a unique looking helmet that is a perfect gift option for the welder in your family. It combines quality, style, and affordability into one really amazing package.
First off, we want to state that this is one of the few welding helmets out there that comes with a few unique decal options for you to pick from. We are looking specifically at the patriotic decal (complete with eagle and flag), but there are other decals that you can pick from. While this isn't a huge deal, the decals add a bit of flair and help to set this helmet apart from others, which can be good if you are buying it as a gift for someone else.
But don't get us wrong, this helmet has more going for it than just a nice exterior, it is also a pretty functional helmet in general. For example, it is an auto-darkening helmet, so it automatically adjusts itself so that it is always at the exact right shade (although it could do this a bit faster, as we will explain later on).
It is also just comfortable and provides a high level of protection, so there isn't a whole lot more that one can ask for. As the sort of cherry on top of everything that we have just said, the DEKOPRO manages to be this good, despite being a relatively inexpensive helmet overall (it only costs around $30-$35, which is good as far as decent welding helmets go).
If we had to levy one complaint against the DEKOPRO, it would have to do with the helmet's sensitivity. Like all auto-darkening helmets this helmet relies heavily on its sensitivity to work effectively.
You need a sensitive helmet so that the helmet changes shades quicker (this prevents you from having to stop welding while the helmet adjusts). While the DEKOPRO isn't the worst in this sense, we do wish that it was a bit more sensitive. Even on the highest sensitivity settings, it would be nice if it changed a bit faster.
Pros
A bunch of colorful decal options.
Good eye protection.
Auto-darkening.
Inexpensive for such a good helmet.
YESWELDER Auto Darkening Welding Helmet
For this final review on our best welding helmet list, we are once again taking a look at another welding helmet that is designed to be both affordable and functional.
We have already taken a look at one such cheap option earlier on (it was the DEKOPRO Welding Helmet), but since we have already featured two welding helmets on the pricier end of the spectrum, we figured that it would balance out the article to also have two relatively affordable ones as well.
The other well-made, but still affordable welding helmet that we think should be included on this list is the YESWELDER Auto Darkening Welding Helmet.
In terms of price, the YESWELDER is about as cheap as the last entry that we reviewed (meaning it is in the $30-$40 range). So, like we said before, you are going to be saving quite a bit of money when compared to buying one of the higher-end helmets that you can find. If you want something on a budget, then any of the variants of this helmet are a good choice.
At the same time, we don't have to tell you that any helmet that we are featuring on our best welding helmet list is going to have a lot more going for it than just affordability. The YESWELDER Auto Darkening Welding Helmet is a pretty comfortable and very protective welding helmet.
Pros
Another affordable welding helmet.
Offers great visibility.
Responsive auto darkening.
Very good battery life.
Cons
Exterior is a bit flimsier than we would like.
Welding Helmet Buying Guide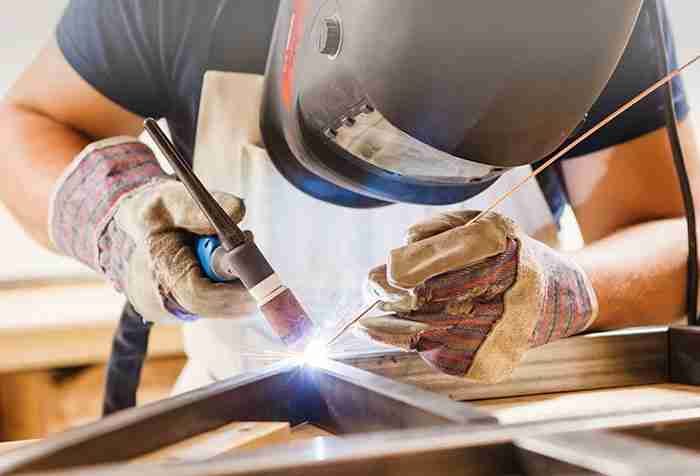 Early on in this article we mentioned that buying a welding helmet is extremely important, not just because they are essential safety tools, but also because they can end up being either a help or a hinderance to your welding.
What we mean by that is that if you get the right helmet, it's going to make welding jobs a whole lot easier. If you get the wrong one, however, then you are just adding an extra layer of hassle and inconvenience that you have to deal with when working on a welding job.
Because of this, it is crucial that you do more than just buy any old welding helmet, instead, you need to make sure that you are buying the right helmet. This is where this welding helmet buying guide should be useful. We will be going over everything that you need to know about these helmets and how to buy them.
Auto Darkening and Manual Adjustment
One of the most important, if not the most important, things to understand when it comes to buying welding helmets is the difference between auto darkening and manual adjustment helmets.
We generally stuck to reviewing auto darkening helmets on our review list (for reasons that we explained in some reviews and will explain again here), but both types are fairly popular among welders.
Auto darkening helmets, as we explained before, do the work for you. The helmets automatically darken or lighten up their visor as necessary. The best models will do a good job of providing a good balance between visibility on the one hand and protection for your eyes on the other. The cheaper models can be hit or miss when it comes to how they do at responding to changes in heat or light intensity. Despite this, we would still recommend going with an auto darkening model since they are just that convenient.
Comfort is Key
We know that this probably goes without saying, but we just want to emphasize that you should always place a high emphasis on comfort when buying a welding helmet.
We figure that a lot of you may not think that comfort is all that important, and that it is more important to focus on pure functionality. While functionality is extremely important, you have to remember that welding jobs can take quite a while.
In fact, the majority of welding jobs will end up taking a lot of time to finish. This means that a lot of time is spent wearing the welding helmet. So, ensuring that it is super comfortable to wear is important.
Comfortable helmets generally weigh less, so they don't put as much pressure on your head or neck. The lighter a welding helmet, the better it will be to wear for long stretches without taking it off.
Conclusion
If you still have some questions about what to lookout for when buying a welding helmet, we would encourage you to drop us some comments down below, we welcome any comments about these products in general or our best welding helmet review list specifically.
Like this guide? Then you'd definitely love our other guides on the best MIG welders.