If you are looking to add some much needed versatility to your woodcutting arsenal, then you are going to want to consider a compound mitre saw.
These are the more versatile big brother of the regular mitre saw and they are a great asset for anyone involved in serious woodworking. However, since they aren't as common of a tool as say regular mitre saws, you might have trouble finding a really good one for your tool shed.
This is why we are here to help as we will be going over all of the information that you need to know in order to find a good compound mitre saw, as well, we will be reviewing some good saw options.
If you want to get the best compound mitre saw right now, we recommend the Makita LS1219 Slide Compound Mitre Saw.
A Spotlight On Some of The Best Compound Mitre Saw 2021:
Makita LS1219 Slide Compound Mitre Saw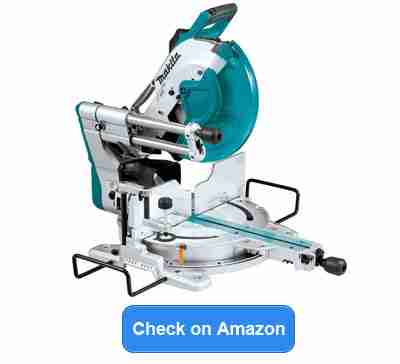 To start off our best compound mitre saw review list, we figured that we would start off by showcasing the best that we could find, which means reviewing a tool from Makita.
While they aren't the biggest brand out there, they have a reputation for making reliable, high-end power tools and nothing showcases this fact quite as well as the Makita LS1219 Slide Compound Mitre Saw. This is a high-performance mitre saw.
A good way to quickly evaluate the quality of a mitre saw is to look at how powerful it is. This isn't a foolrpoof method or anything like that, but it does quickly give you a good indication of the quality of the saw.
In this case, the Makita LS1219 boasts a motor strength of roughly 1800 watts or 240 volts. That is very good for any sort of mitre saw or any other tool that places a premium accuracy at the expense of cutting power.
Likewise, the saw excels at the tasks that you want your mitre saw to be able to do. This means that it is able to make very precise mitre and bevel cuts. It also possesses great quality of life features, such as a one touch locking system, an electric braking system, and the ability to be connected to a vacuum for dust extraction.
We imagine that the biggest roadblock for most of you when it comes to this saw will be how much it costs. At £700 this is definitely more expensive than your average compound mitre saw, which might make it a bit unpalatable for some of you out there, especially if you are on a tight budget for a job or something like that.
We also imagine that at least a few of you are curious to what extent this saw actually justifies the higher than usual price point. Well, this is a question where the answer depends heavily on your own personal preferences. We personally think that the quality of the Makita does make the admittedly high price a lot easier to swallow since you are getting a very good saw for the price.
Pros
Can be connected to a vacuum.
Both precise and powerful.
1800 watt motor.
Electric braking system.
Cons
At £700, this is a pricey compound mitre saw.
Evolution Power Tools R185SMS+ Compound Saw
For the second review on our best compound mitre saw review list, we wanted to review an option that showcased that these products don't have to be overly expensive. We opened up our list with the very pricey Makita compound saw, but we wanted to show you that there are some more affordable options out there.
Case in point, there is the Evolution Power Tools R185SMS+ Compound Saw. This is an inexpensive compound table saw that does a great job of showcasing that affordable tools do exist.
Easily one of the best things about this saw is its price, so naturally that is the first thing that we should talk about. At a little over £100, this is a fairly inexpensive compound mitre saw.
While the price on its own may not seem that inexpensive, you have to remember that compound mitre saws are pretty specialized tools, so they cost more on average than a regular circular saw will.
You may assume that the quality would take a nosedive to accommodate the lower price, but this is actually a pretty solid compound mitre saw.
The saw itself is quite durable and it has a decently powerful motor on it. Add in that it is also quite good when it comes to making pretty precise bevel and mitre cuts, and you have yourself a very solid compound mitre saw.
Sadly, the low price of this saw from Evolution does mean that some compromises have to be made. In particular, we have to talk about the blade on this compound saw.
As any veteran woodworker knows, the quality of the saw blade is almost as important as the tool itself. Sadly, the quality of the saw blade on this particular compound saw does leave quite a bit to be desired. There is a high likelihood that you will have to replace this blade quite quickly, which does add to the overall costs of the saw.
Pros
A very affordable saw.
Decent amount of power.
Good quality saw for the price.
Cons
Needs a blade replacement almost immediately.
BOSCH 0601B19170 GCM8SJL Sliding Mitre Saw
If you have bought any power tools recently, then there is a good chance that at least one of those tools was from Bosch. There is a good reason for that, as they are definitely one of the more noteworthy tool brands out there.
As is the case with Makita, one can trust a Bosch tool to give your money's worth. We are going to be reviewing their Bosch 0601B19170 GCM8SJL Sliding Mitre Saw.
This is a major powerhouse of a cutting tool. While power isn't as important for this type of saw as it would be for a bulk cutting saw, you still don't want an underpowered compound mitre saw either. When paired with the correct tool, the Bosch is capable of cutting through thick materials and strong woods with relative ease.
Pros
One of the most powerful saws on our list.
Great handling.
Easy to use.
Cons
Adjusting the saw can sometimes be more difficult than we would like.
Makita LS0815FLN/2 Slide Compound Mitre Saw
To start off our review list, we took a look at the Makita LS0815FLN/2 Slide Compound Mitre Saw. If you will recall that review, we talked about how it was a good, but also pricey saw.
Well, we wanted to end off the review list by once again returning to Makita, since they are such a reliable brand, but also changing things up by reviewing one of their cheaper options.
If you aren't familiar with this brand at all, they don't just make super high-end, expensive power tools, they also make more affordable, workhorse tools. This saw from them is a great way to demonstrate that they can produce the same great quality tools at a more affordable rate.
Does this tool suffer all that much because of the decrease in price?
Obviously, it does to some extent (this will be discussed later on in the review), but it isn't anywhere as much of a downgrade as you would assume based on the price difference (for reference, this Makita saw is about 500 cheaper than the other one that we looked at).
For only around £200 or so, this is an extremely good compound mitre saw and we definitely think that it would be the star of any good tool collection.
We will say that of the two Makita saws that we have reviewed, this one is easily the least powerful of the two. You were probably expecting this, given just how much cheaper it is, but we just wanted to confirm that you are losing some good features if you do choose to go with the more budget friendly Makita option.
Pros
Pretty good value for how much it costs.
From the reliable and trustworthy Makita brand.
Great mixture of safety and quality of life features.
Built-in laser guide for improved accuracy.
Cons
The less powerful of the two Makita saws.
Compound Mitre Saw Buying Guide
In the next section of our article, we want to talk about the important things that you need to consider when it comes to buying compound mitre saws. We know that these aren't the most common tools, and so quite a few of you may not know exactly what factors to think about when it comes to buying them.
Sure, a lot of the stuff that applies to regular circular saws applies here as well, but enough things are different that we think this buying guide will be useful for everyone, regardless of their experience level.
What Are They?
We want to briefly explain what exactly compound mitre saws do, since that isn't very clear and it can be difficult to understand what these saws are used for. See, a regular table saw can really only make straight cuts. A regular mitre saw is able to make, as you can probably guess, mitre cuts.
A compound mitre saw is able to make straight, mitre, and bevel cuts. So, it is the most versatile of the various types of table saws that you can get.
Knowing How Powerful The Saw Is
As you could probably imagine, one of the most important things to consider when buying a power tool that is meant to cut through tough material like wood, the primary thing that you want to consider is whether it is actually going to be able to do the job that it is meant to.
That is why we say that the first thing that you should always consider when shopping for a saw of any type is how much cutting power it has. But exactly how does one go about determining how strong a particular compound mitre saw is?
Well, thankfully, there are a number of good indicators of just how powerful a particular saw is, with the most important being the wattage (or voltage depending on the specific saw) of the motor. Wattages on saws can range from as low as 1000 to well over 2000 with a lot of middle ground. As you can probably figure out, the higher the wattage, the more power that you get.
Key Safety Features
Whenever you are using a power tool like a saw, where there is a high chance that you could possibly cut yourself or someone else with a very sharp and very fast blade, you want to make sure that you are safe.
The best way to ensure safety, aside from proper training, is to invest in a saw that has safety features that go above and beyond what is mandated by law. While you may not think that you need these features at all, remember that it is better to spend a bit extra on safety than risk losing an eye or worse.
The safety features that we personally think are best are some sort of stopping feature that stop the blade in the event that there is a failure as well as more advanced locks that keep the blade firmly in place when using the saw.
Convenience Features That We Like
Before committing to any one saw, you want to consider what sort of convenience features it offers. This should be the last thing that you consider after power and safety, but it is still something to think about.
There are a wide array of convenience and quality of life features on modern power tools, and which ones you go for is entirely up to what you prefer. Personally, we like finding saws with good dust removal systems and built-in LED lights for working in low-light conditions.
Conclusion
We want to hear from those of you who read through our best compound mitre saw list. Use our comment section below to leave questions and feedback, we appreciate it.