If you frequently take on DIY home projects, you'll find that a good planer is an excellent investment to make. In this article we will take a close look at some of the best electric planer options available right now.
Our top choice is the Bosch Home and Garden PHO 1500, which boasts a powerful, high-speed design for fast and efficient performance. It also has a durable construction that will stand the test of time.
Before you go ahead and choose a certain planer, we encourage you to explore the following options. Each of these tools has an excellent design with a plethora of useful features.
How We Picked The Best Electric Planer
As we put together our best electric planer list, there were a number of things that we took into consideration. We started off by looking at the motor of each tool. The more powerful your planer is, the easier it will be to work with a wide range of materials. High-powered models offer a versatile design that is incredibly useful.
We also focused on the blade that each planer is equipped with. This definitely has a huge impact on the tool's overall performance. A durable blade with an excellent design will serve you well for a long time. It will also allow for precision results, which means less time spent making corrections.
A Spotlight On Some of The Best Electric Planer 2022:
Morgans Power Electric Planer
The Morgans Power Electric Planer has a powerful 750-watt motor that allows for ultra-efficient cutting. It operates at an impressive 26,500 cuts per minute. This allows you to complete your tasks and projects faster than ever before.
You can adjust the cutting width of this tool up to 82 millimetres. It offers a maximum 3-millimetre cutting depth as well. You can adjust the depth of your cuts quickly and easily with the plate on the front of this power tool. There are a total of 31 positive stops that you'll have to choose from.
The aluminium plate on the bottom of this planer provides you with precision performance on a consistent basis. There's also the Chamfer groove, which lets you make angled chamfer through the edges of the material you are working with.
When you purchase this planer you will also receive a number of useful accessories. You'll get a spanner as well as rebate and parallel guides. The 16500-RPM no load speed of this planer is impressive to say the least. This efficient performance is one of the main reasons we put this product on our best electric planer list.
Pros
Long 1800-millimeter power cord offers freedom of movement
Comes with a number of useful accessories
Powerful design gives you tremendous cutting ability
High-speed functionality for efficient overall performance
Ergonomic handle gives you a comfortable and secure grip
Versatile design allows for adjustable cutting width and depth
Cons
Does not come with a carrying case
Bosch Home and Garden PHO 1500 Electric Planer
The Bosch Home and Garden PHO 1500 Electric Planer features a Woodrazor blade system that allows you to change out blades quickly and easily. This design will definitely help you work more efficiently on a consistent basis.
This planer also offers a dedicated knob for adjusting the guide and planning depth. You should have no issues whatsoever with making necessary adjustments on the fly.
We also like the chip ejection system, which has a fairly impressive single-sided design. This allows you to use a dust bag or attach a vacuum cleaner to keep your work area free of debris at all times. You'll quickly find that this will help you concentrate on your work.
One of the reasons we decided to put the Bosch PHO 1500 on our best electric planer list is its easy-to-use design. It has a button that keeps the tool locked to prevent accidents. It also has an ergonomic design for easy holding with no annoying fatigue.
Pros
Safety lock prevents injuries from accidental startups
Ergonomic body design allows for easy activation and deactivation
Balanced blade drum lets you cut through wood very quickly
Built-in dust spout lets you hook up a dust bag or vacuum for efficient cleaning
Allows for fast and easy removal of numerous materials
Cons
Dust spout does not accommodate all vacuums
Jellas EP710 Electric Hand Planer
The Jellas EP710 Electric Hand Planer offers a mirror-grade aluminium shoe for impressively precise performance. You can count on it for consistent performance when flattening sharp corners. It is also incredibly useful for making angled chamfer on edges.
This planer is equipped with two blades that are made of ultra-durable 65Mn carbide material. These blades will provide you with clean results when planning on hardwood or softwood, as well as composite materials.
You'll also quickly appreciate the 710-watts motor in this tool, which allows for super fast cutting. In fact, you can make a maximum of 33,600 cuts each minute. This lets you flatten a wide range of surfaces with unparalleled speed and efficiency.
The ergonomic design of this planer offers a soft grip for a comfortable overall hold. It weighs only 2.3 kilograms, so you can keep working for longer.
There is a built-in spout on the side of this tool that will let you connect a dust bag for efficient debris collection. This will allow you to get your work done without any annoying distractions.
The parallel fence bracket helps you make straight cuts with a high degree of precision. This makes it worth considering for the best electric planer.
Pros
Easy to make adjustments to cutting depth
Security lock keeps it from being started by accident
Parallel fence bracket helps with making perfectly straight cuts
Lightweight design allows you to use tool for long stretches of time
Durable carbide blades work great on a wide range of wood materials
Cons
Metal guide is slightly off
Einhell 4345310 Electric Planer
The Einhell 4345310 Electric Planer is designed for easy chipping depth adjustments up to 2 millimetres. This makes it easier to get the best possible results with each use. The carbide blade that comes with this tool can handle just about any type of wood.
One of our favourite things about this planer is its powerful 750-watts design. It operates at 16,000 RPM for maximum efficiency at all times. This allows you to work on a wide range of wood surfaces with precise results on a consistent basis.
Measuring 26.1 by 15.8 by 17.4 inches with a weight of 2.31 kilograms, this electric planer is quite easy to handle. It has a lightweight design that won't cause hand fatigue when working for extended periods. You'll quickly find that the handle has a soft coating for a very comfortable overall grip.
If you enjoy taking on DIY home projects, the Einhell 4345310 is a great choice for best electric planer. It has a versatile design that will make all of your tasks exponentially easier.
Pros
Easy to adjust chipping depth as needed while working
Aluminium plate is very durable and enhanced overall performance
Allows you to change direction of chipping throw-off
Built-in automatic park rest keeps tool and your materials safe
Powerful and high-speed design for ultra-efficient planning
Cons
Does not come with a dust bag
Makita KP0800 Planer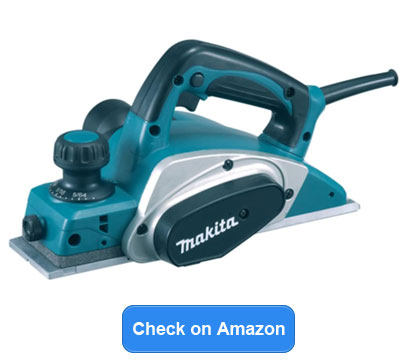 The Makita KP0800 Planer has an adjustable width of up to 82 millimetres, and a maximum depth of 2 millimetres. It is equipped with a two blade cutter head that runs at 17,000 RPM for 34,000 cuts every minute. This high-efficiency design will allow you to complete your work quickly with no mistakes.
The knob on this planer that allows for cutting depth adjustments is very easy to use. It features a convenient scale that you should have no problem reading. This lets you get the perfect depth for precision performance.
The 620-watt motor delivers more than enough power to meet all of your planing needs. It allows you to work with particularly tough materials without having to exert a lot of unnecessary effort.
Measuring 19 by 33.5 by 18.5 centimetres with a total weight of just 2.5 kilograms, you can use this tool for extended periods with no issues. In fact, it has an ergonomic design that prevents hand fatigue.
Pros
Die cast aluminium housing is extraordinarily durable
Spring loaded design prevents damage to blades and work materials
Features a lock button to ensure safe operation at all times
Allows for making fine adjustments to planing depth within a wide range
Very fast and efficient performance helps you get your work done much faster
Cons
It is a bit heavier than some other modern planer models
Best Electric Planer Buying Guide
Before you can select the very best electric planer, it is essential that you consider a few key factors. The following list will help you narrow down your options quickly.
Blade Design
When searching for the best electric planer, you will definitely want to pay close attention to the blade each one uses. Carbide blades allow for fast and efficient cutting. They are also resistant to high temperatures, which is a big plus.
There are also HSS blades, which are fairly cheap but don't hold up quite as well as their carbide counterpart. You'll find that these blades are not as useful when it comes to getting your work done as efficiently as possible.
Housing
Make sure that you look into the durability of the planer's housing as well. We recommend die cast aluminium housing, as it is quite tough and doesn't heat up quickly. This type of construction will help you get the most out of your money over the long term.
Power and Speed
We recommend buying a planer with a minimum 750-watts motor. This will allow you to work with the toughest materials without any issues. Pay attention to the maximum speed of these tools as well. A planer that operates at a speed of 26,000 cuts per minute will allow you to work very efficiently.
Handle/Grip
Many people who look for the best electric planer neglect the handle on each one they come across. This is actually a very important part to focus on.
Make certain that the planer you buy has an ergonomic handle design. This will provide you with an easy and comfortable grip, which reduces the chances of making a mistake.
It also allows you to keep working for longer, which is always a good thing. Many of these tools have a handle that features rubber coating for enhanced comfort.
Safety Features
If safety is important to you when working on your DIY projects, there are certain features you'll need to look for. You'll definitely want to buy a planer that has a safety lock. This will keep it from being activated by accident. This particular feature is especially important if you have young kids in your house.
Adjustments
It is crucial that you have the ability to make quick and easy adjustments for cutting depth and width. You'll find that a lot of these power tools have a single knob for this exact purpose.
Take a look at the adjustment ranges for both depth and width before deciding on a specific planer. This will help you choose one that can match your needs in any given situation. You should have a maximum cutting depth of around three millimetres, and a width of 82 millimetres.
Dust Management
You will need to make sure that the planer you select has a spout that allows for attaching a dust bag or vacuum. This will help you keep your workspace clear of debris. Some of these tools actually come with a dust bag, so you'll want to keep this in mind when looking into your options.
Conclusion
In order to find the best electric planer to match your needs, it will be necessary to find out how powerful each one is. It's also important to focus on the speed and efficiency of each model. This will ultimately allow you to get all of your work done as quickly as possible with minimal hassle or frustration. Feel free to comment below so we know what you think about our list.